Description
EZVIZ 2K+ Security Camera Outdoor PTZ CCTV WiFi, 360° View Pan/Tilt/Zoom with APP, AI-Powered Person Detection, 30M Colour Night Vision, Waterproof, H.265, Micro SD Card Slot, Two Way Talk(C8W) – EZVIZ C8W Pan & Tilt 4MP Person Detection Colour Night Vision Wi-Fi Camera – Best Price in Sri Lanka – 2 Years Warranty
360-degree stunning vision, with total flexibility.
As a new addition to the EZVIZ C8 Pan & Tilt Series, the C8W upgrades 360° panoramic protection with the ultra 2K+ video clarity. It also integrates the must-have features required for advanced security, including AI-powered human shape detection, color night vision, two-way communication and active defense. It is your trusted gatekeeper or backyard guard, day and night.

Superior protection with 2K video clarity.
The C8W takes a step further to record everything in the ultra-clear 2K+ resolution. Wherever and whenever, you can see live view in vivid details, and rewind the important moments, as if you were right there.

See, hear and talk, from anywhere.
Front-door communications can be done remotely. With the C8W, you can hear and talk to your family, welcome visitors, or turn away uninvited guests by simply using EZVIZ App over your smartphone.

Rotate to cover every corner that matters.
Can't see wide enough with your current security camera? The C8W is here to help extend your vision. Being able to pan and tilt to take in 360-degree field-of-view, the camera can easily cover wide areas and greatly reduce blind spots.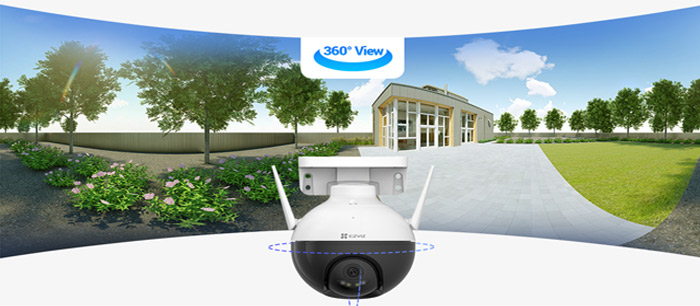 Smarter alerts that truly matter
Thanks to the built-in AI algorithm, the C8W can distinguish human shapes from pets or objects, so you're alerted when something important happens. You can also customize detection sensitivity and time schedules to further filter out unwanted alerts.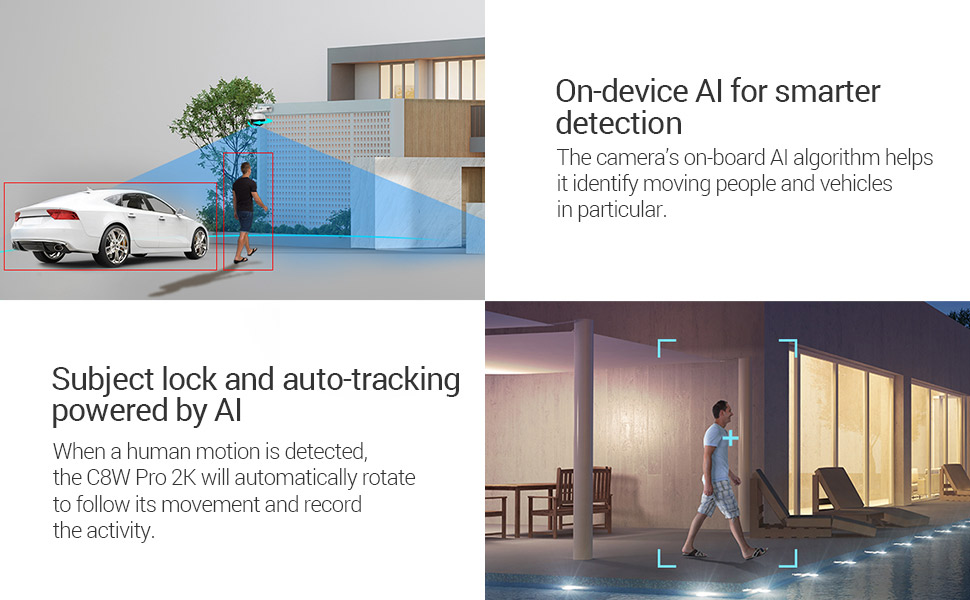 Actively guards your home.
The camera features the active defense function to provide an extra layer of protection. Upon detection of intruders, the camera will set off a loud siren and flash two spotlights* for on-site deterrence.

Elegant and durable design.
Say goodbye to the bulkiness. With its elegant design, the C8W can fit in any household perfectly. It's also weatherproof to deliver longstanding performance, even in harsh weather conditions.

EZVIZ 2K+ Security Camera Outdoor PTZ CCTV WiFi, 360° View Pan/Tilt/Zoom with APP, AI-Powered Person Detection, 30M Colour Night Vision, Waterproof, H.265, Micro SD Card Slot, Two Way Talk(C8W) – EZVIZ C8W Pan & Tilt 4MP Person Detection Colour Night Vision Wi-Fi Camera – Best Price in Sri Lanka – 2 Years Warranty
EZVIZ 2K+ Security Camera Outdoor PTZ CCTV WiFi, 360° View Pan/Tilt/Zoom with APP, AI-Powered Person Detection, 30M Colour Night Vision, Waterproof, H.265, Micro SD Card Slot, Two Way Talk(C8W) – EZVIZ C8W Pan & Tilt 4MP Person Detection Colour Night Vision Wi-Fi Camera – Best Price in Sri Lanka – 2 Years Warranty
EZVIZ 2K+ Security Camera Outdoor PTZ CCTV WiFi, 360° View Pan/Tilt/Zoom with APP, AI-Powered Person Detection, 30M Colour Night Vision, Waterproof, H.265, Micro SD Card Slot, Two Way Talk(C8W) – EZVIZ C8W Pan & Tilt 4MP Person Detection Colour Night Vision Wi-Fi Camera – Best Price in Sri Lanka – 2 Years Warranty